This post may contain affiliate links. Read the disclosure for more info.
If you're looking for a great tasting pasta that is hearty then look no further than these Vegan Pasta Recipes. You can happily eat any of these every day and enjoy them too.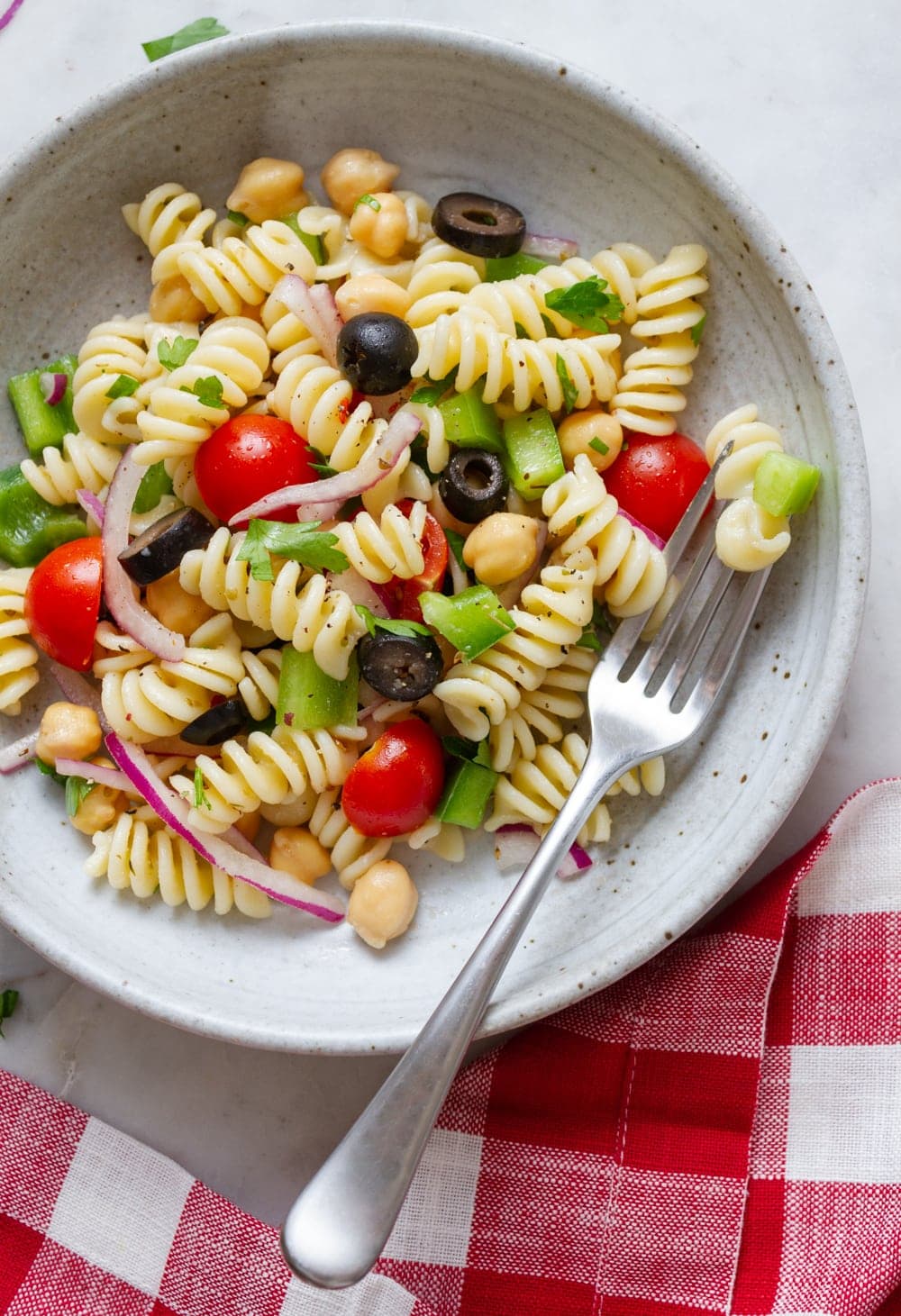 Prepare this Vegan Pasta Salad from Simple Vegan Blog in just 15-minutes but enjoy it for longer at your pleasure. This vegan pasta salad is perfect for summer parties, picnics, barbecues etc. It is also an ideal lunch to take to work.
This Vegan Chorizo and Chickpea Pasta by Jeni from Thyme and Love is a delicious and satisfying plant-based entree that the whole family will enjoy.
This Creamy Gluten-free Vegan Pasta by Michelle from Healthier Steps is smothered in a rich and creamy vegan garlic cashew sauce. It's incredibly easy to make and packed full of flavours for your delight.
This Vegan Pasta Bake with White Wine Pasta Sauce by Lee from Fit Foodie Finds, is a perfect combination of garlic, cashew cream sauce, and perfectly tender mushrooms. Make it for your next weeknight dinner or the next time you want to impress your friends at a dinner party.
This Healthy Vegan Pasta Fagioli by Liz & Tyler from The Clean Eating Couple is packed with protein and makes the perfect nutritious dinner. This veggie packed meal is the comforting and cozy winter dinner anyone would love.
This Vegan Alfredo Sauce Pasta by Khushboo from Carve Your Craving is so creamy yet completely dairy free. This white sauce for pasta is also gluten free.
This Vegan Pasta Primavera by Alissa from Connoisseurus Veg Tender consists of pasta and veggies drenched in garlicky white wine sauce. The incredibly flavor-packed vegan pasta Primavera comes together in just 30 minutes.
Enjoy this Creamy Vegan Pasta with Mushrooms and Kale by Stephanie from Grateful Grazer. The mushrooms and kale are simmered in almond milk and tossed with cooked pasta to create this comforting, plant-based dinner.
Perfect for a quick dinner or lunch, this 15 Minute Vegan Pasta Salad by Jessica from Jessica in the Kitchen is loaded with flavour. It's also topped with a flavourful homemade Italian vinaigrette for your enjoyment.
Keep dinner simple and delicious with this One Pot Kale, Tomato & Garlic Spaghetti from This Savory Vegan. A simple vegan pasta dish that is packed full of veggies and bright flavours.
This Creamy Spicy Vegan Pasta from Honey, What's Cooking is gluten-ree, high in fiber and incredibly delicious.
This Vegan Spinach and Mushroom Pasta by Natasha from Salt & Lavender is fast, easy to make and totally delicious. It makes the perfect healthy and gluten-free weeknight meal.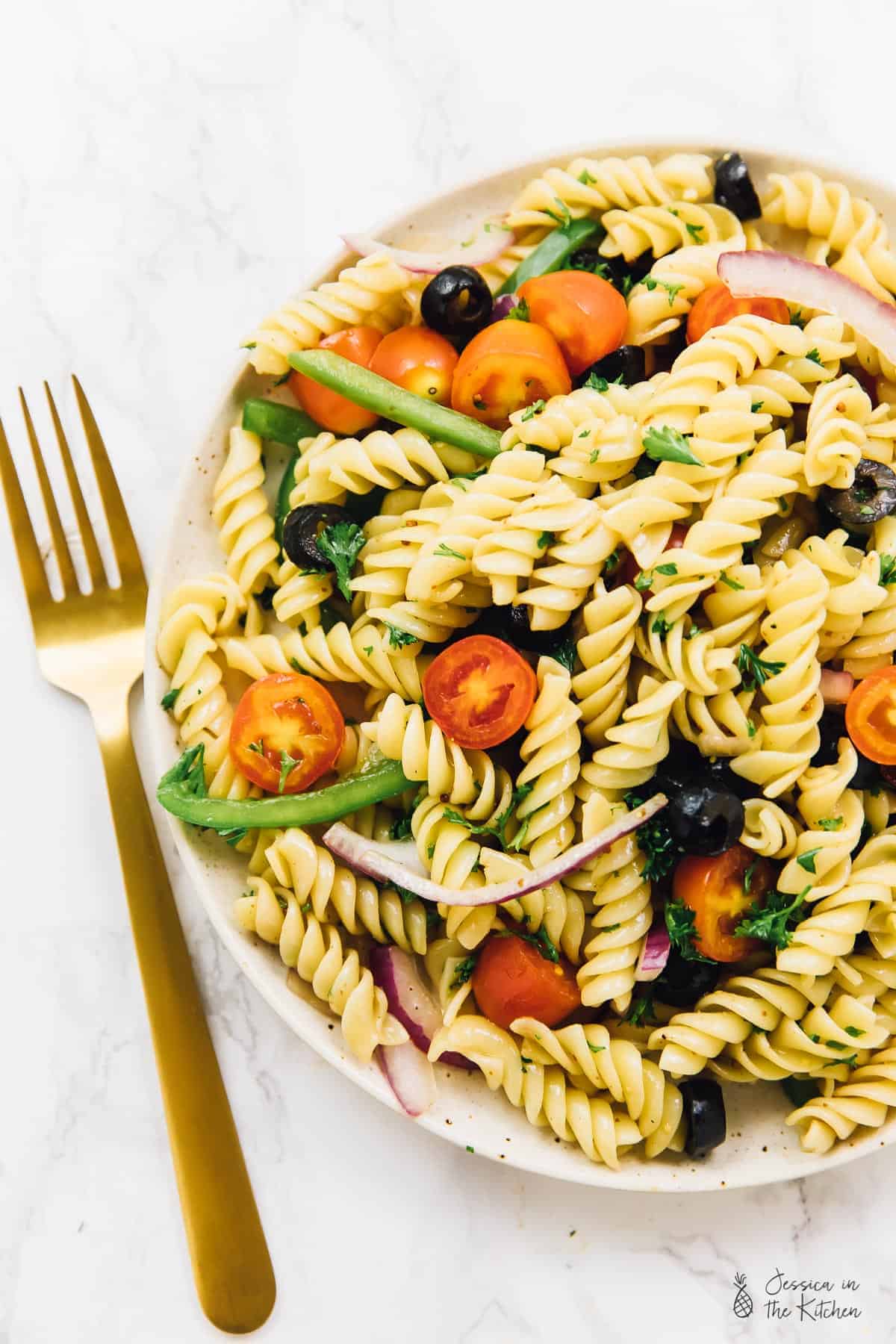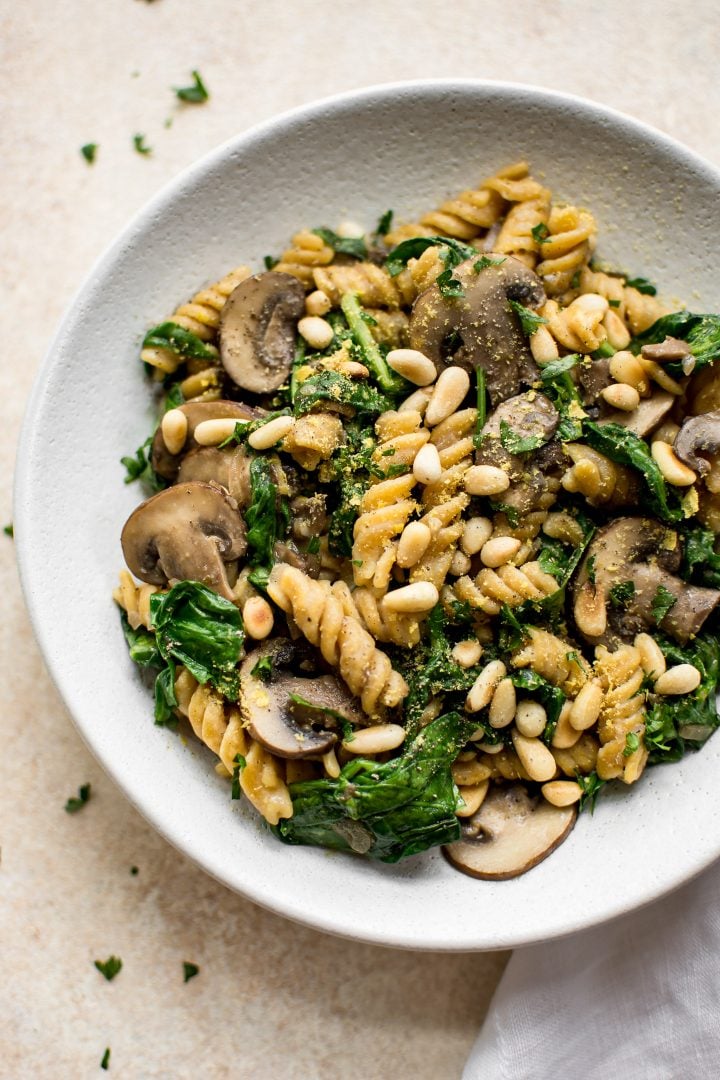 Here are some more recipes for you to enjoy: