This post may contain affiliate links. Read the disclosure for more info.
If you're looking for easy, quick and healthy baked recipes for dinner then you should definitely try out some of these recipes. A lot of them can be made and enjoyed even on a weeknight with the entire family. They can also be made ahead.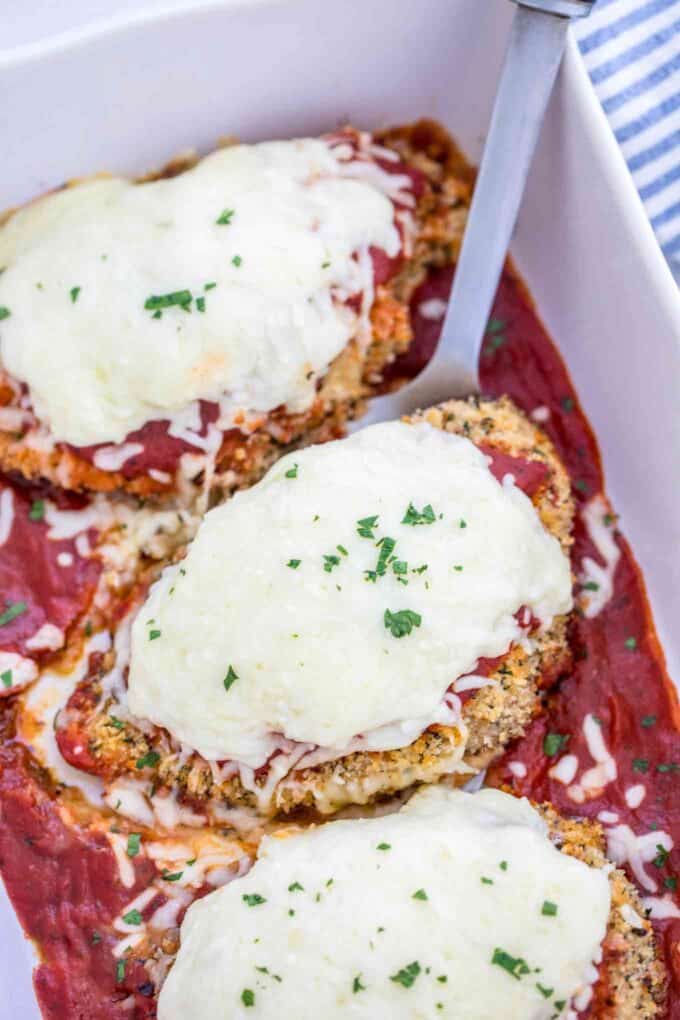 1. Honey Garlic Shrimp
This Honey Garlic Shrimp by Sally from Sally's Baking Addiction is a simple and incredibly delicious dinner recipe that can be ready in as little as 20 minutes.
2. Baked Chicken Parmesan
This Baked Chicken Parmesan by Catalina from Sweet & Savory Meals is a very healthy alternative to fried meal and extremely easy to prepare. You can enjoy them with some healthy noodles any weeknight.
3. Baked Spaghetti Squash Casserole
This Baked Spaghetti Squash Casserole by Kelly from Eat Yourself Skinny is a nutritious and scrumptious low-carb midweek dinner.
4. Baked Chicken Chimichangas
These Baked Chicken Chimichangas by Christy from The Girl Who Ate Everything are a favorite traditional mexican-style meal turned healthy.
5. Sheet Pan Baked Tilapia and Roasted Vegetables
Get this Healthy Sheet Pan Baked Tilapia and Roasted Vegetables by Melanie from Garnish and Glaze ready and on the table in less than 30 minutes.
6. Baked Turkey Meatballs
These Baked Turkey Meatballs by Holly from 3 Yummy Tummies are a great, healthier alternative to meatballs and don't require as much preparation.
7. Baked Salmon with Garlic and Dijon
This Baked Salmon with Garlic and Dijon by Natasha from Natasha's Kitchen doesn't require many ingredients and it's so tasty, juicy and full of flavors.
8. Stuffed Zucchini Boats
These Stuffed Zucchini Boats by Sara from Dinner at the Zoo, are very tasty and make for an easy low carb meal that the whole family can enjoy together.
9. Spicy Tomato Parmesan Stuffed Spaghetti Squash
Enjoy this delicious Spicy Tomato Parmesan Stuffed Spaghetti Squash by Tieghan from Half Baked Harvest for your next dinner. It requires minimal prep, and comes together in just about an hour.
10. One Pan Baked Salmon And Vegetables
This quick and easy One Pan Baked Salmon and Vegetables by Swati and Tushar from Watch What U Eat is absolutely perfect for busy weeknights.
11. Sheet Pan Italian Chicken
This Baked Italian Chicken by Erin from Well Plated is packed full of flavors and it all cooks in one pan for an easy, healthy dinner with very little clean up required.
12. Roasted Vegetable & Feta Cheese Quinoa Bake
This Roasted Vegetable & Feta Cheese Quinoa Bake by Christine from Happy Veggie Kitchen is one perfect hearty and healthy baked vegetarian dinner recipe.
13. Vegetarian Quinoa Mexican Dinner
This Vegetarian Quinoa Mexican Dinner by Lindsay from Veggie Balance is perfect if you're looking for a quick and healthy weeknight meal that the entire family can enjoy.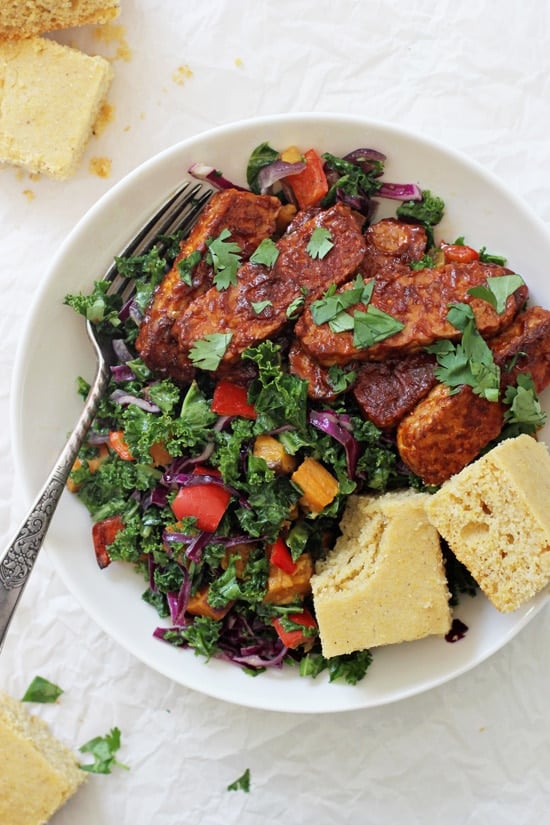 14. Baked BBQ Tempeh Bowls
This healthy Baked BBQ Tempeh Bowls dinner by Ashley from Cook Nourish Bliss is packed with BBQ tempeh, roasted veggies, tender kale and a creamy dressing. It's vegan, gluten free and finger licking good.
15. Loaded Baked Potatoes
These Healthy Loaded Baked Potatoes by Danae from Recipe Runner are really easy to make for dinner and are packed to perfection with some tasty cheese and vegetables.